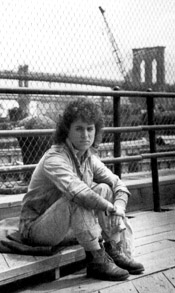 Evan Ruderman on break at a worksite (above) and at a United Tradeswomen rally (below, center).

Evan Ruderman's obituary
The New York Times, November 21, 2003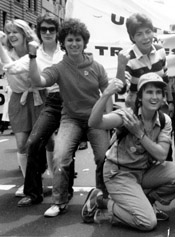 Evan Ruderman, a native of New York City, dropped out of high school and attended the All-Craft program, where she was introduced to various trades. She then worked as a nonunion electrician for about a year.

She and her best friend, Brunilda Hernandez, were members of the second class of women to enter the apprenticeship program of Local 3, International Brotherhood of Electrical Workers (IBEW). Both women began their apprenticeships in 1979.

Ruderman attended meetings of the recently formed United Tradeswomen (UT) and quickly became one of UT's most dedicated leaders. She also helped to organize Women Electricians (ME), an independent support group for women electricians within Local 3.

As an apprentice she worked at the Battery Park City construction site in lower Manhattan, as did Hernandez, Laura Kelber, and other women. Her first job after receiving her A-card (journeywoman status in the local's construction division) was at the Jacob J. Javits Convention Center in Manhattan.

Ruderman never encountered a situation that she didn't try to improve. She spoke up when she believed changes were needed to improve conditions on the job. Her willingness to take personal risks evoked intimidation and the threat of physical violence.

She saw evidence of corruption at every level in the unions, including ties to underworld mob influences. Her life was threatened on the job, and she realized that being killed for offending the wrong people was a real possibility. She recalled an incident involving the general foreman of the electricians at the convention center, who was shot seven times and left in the company van. Local 3 put up a reward for finding the shooter, but the case was never solved.

The depth of harassment she experienced affected her health. In 1988 Ruderman also learned that she was HIV positive, and she developed full-blown AIDS in 1990. She took early retirement and received a full pension from the IBEW after a successful appeal. Afterward continued her activism and her advocacy for women.

In February 1999, a few months after Hurricane Mitch tore through Central America, Ruderman and other U.S. tradeswomen, including Margarita Suarez and Rebecca Lurie, went to the small town of Condega, Nicaragua, where they helped a local women's collective, Mujeres Constructoras, rebuild houses.

Ruderman was active in AIDS causes. She used her own experience as the basis for a monologue she wrote and then delivered in a televised PBS documentary that aired in 1996. In 2002 she represented New York area women at the World AIDS Conference in Barcelona, Spain.

Evan Ruderman died November 18, 2003, at age 44. Her family and friends, including many tradeswomen, held a memorial celebration of her life on February 8, 2004.

Ruderman, who participated in a joint interview with Irene Soloway and Lois Ross, describes some of the frightening incidents that she and other tradeswomen experienced on the job. She also discusses the history of United Tradeswomen, its successes and failures.