Inside

Links to Related Sites:
The Pitzer College Anarchy Archives
The Francisco Ferrer Collection - Mandeville Special Collections Library at the University of California, San Diego
The Stelton Modern School Archive at Rutger's University
Modern School Texts from:

Other
The University at Albany History Department
The Journal of MultiMedia History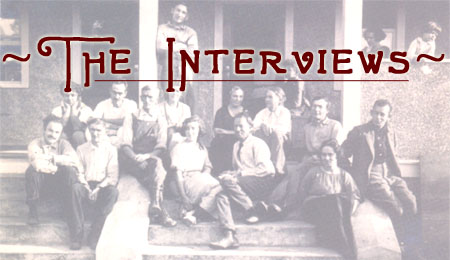 Special Collections and Archives, Rutgers University Libraries
Selections and extended portions from interviews with former students of the Stelton Modern School done during March of 2001, chronicling both their time at the school and their lives.
Click here to download free RealMedia Software:
RealPlayer

*Many interviews have yet to be loaded. Please be patient as we bring them up.
-Introduction: Mr. Shapiro discusses his early life and how he got to the school 2:54
-On the difficulties he had upon leaving the school. 1:42
Jack ("Josh") Shapiro
-Painting - Mr. Shapiro discussing his art work and some of the people that influenced him. 1:29
-Saturday Night in the colony 0:51

-Introduction: Mr. Giacoloni discusses his early memories of the school. 2:45
-His memories of how it looked, and how the day was run. 2:14
William Giacoloni
-Discussion of some of the problems encountered both during his time at the school, and after he left. 2:32
-His time in the Navy. 1:25
-Going back. :58
-The End 2:36

-Introduction :42
-His educational experience, and ultimate decision to leave the school. 7:30
Leonard Rico
-Discussion of his family and the history of the Stelton colony. 6:20
-His decision to leave the Stelton School in favour of public school. 3:35
-His memories of the Stelton Colony and what made it unique; and his transition to a more traditional school. 4:30