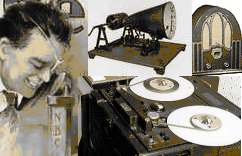 Aural History Productions
---
Talking History, based at the University at Albany, State University of New York, is a production, distribution, and instructional center for all forms of "aural" history. Our mission is to provide teachers, students, researchers and the general public with as broad and outstanding a collection of audio documentaries, speeches, debates, oral histories, conference sessions, commentaries, archival audio sources, and other aural history resources as is available anywhere. We hope to expand our understanding of history by exploring the audio dimensions of our past, and we hope to enlarge the tools and venues of historical research and publication by promoting production of radio documentaries and other forms of aural history. In addition to our weekly radio program, we are engaged in numerous educational efforts, from running and sponsoring workshops to offering full-semester courses on radio production and oral history. Some of the most talented radio producers and engineers currently working in public and non-commercial radio now contribute to Talking History—both to our programming and to our educational efforts through production workshops. Here, you'll also find digital archives of their enormously creative and captivating works. Our weekly broadcast/internet radio program, Talking History, focuses on all aspects of history. Follow the link to the left, "The Radio Show," for more information on the program and to access the live WWW broadcast. Below you will find our latest archived shows; use the drop-down menu to the left to access to our full radio archive.
~ ~ ~ ~

January 27, 2015
Segment 1 | Backstory: Counter Culture "A History of Shopping" (2014).
Here's another piece from Backstory and the American History Guys: "The word shop first appeared as a verb in the 16th century -- when it meant to put someone in prison. And boy can shopping feel that way, especially around the holiday season. The smells, the colors, the teeming shelves and showcases, the muzak. On this episode, BackStory will go shopping for the historical roots of Americans' consumer habits, considering the role of mercantilism in the revolutionary politics of early America, the journey from general store to shopping mall, and even look at shoplifting. When did coveting your neighbor's possessions go from sin to virtue? How did holiday shopping become the modern engine of the retail industry? And how did transformations in systems of consumer credit change American thinking about shopping?" Guests appearing on this show Include: Elaine S. Abelson, The New School; T.H. Breen, Emeritus, Northwestern University; Peter Hanff, Bancroft Library, University of California, Berkeley; Jeff Hardwick, George Mason University and The National Endowment for the Humanities; Louis Hyman, Cornell University School of Industrial and Labor Relations; Kathleen Moran, University of California, Berkeley; Eli Wirtschafter, Independent producer.
Here's a selection from a standup routine by George Carlin -- an excerpt (with approriate radio edits to comply with FCC regulations). Carlin was notorious in his critique of materialism and consumerism in many of his routines. Here are few examples -- all available on YouTube: https://www.youtube.com/watch?v=MvgN5gCuLac and https://www.youtube.com/watch?v=egwghf1lPik. For information about Carlin see: http://www.biography.com/people/george-carlin-9542307.
~ ~ ~ ~

January 20, 2015
Segment 1 | From the Vault: "The Second Battle of Selma." (1965).


This piece comes to us from Pacifica Radio's From the Vault: "The Second Battle of Selma, produced by legendary newsman Dale Minor in 1965 during his time at Pacifica station WBAI, includes rare audio of Dr. Martin Luther King, Jr. and actuality of the march on Selma. This program, a fine example of early Pacifica Radio editing and storytelling style, remains as relevant today as it did almost fifty years ago when it was first broadcast." For more information and links to primary sources, see: http://en.wikipedia.org/wiki/Selma_to_Montgomery_marches.
Segment 2 | From the Archives: "Stokely Carmichael at Berkeley, 1966"
Stokely Carmichael (1941-1998) delivered this speech at the University of California, Berkeley on October 29, 1966. Carmichael's celebration of "black power" and advocacy of a more militant approach to civil rights organizing emerged in reaction to the violence used against demonstrators at Selma and elsewhere. For more information on Carmichael and a transcript of this speech, see: http://americanradioworks.publicradio.org/features/blackspeech/scarmichael-2.html.
~ ~ ~ ~

January 13, 2015
Segment 1 | Backstory: "The Future Then ~ Visions of America Yet to Come." (2015).


From Backstory and the American History Guys: "Across history, Americans have dreamed of what the future will hold, from the flying cars and 3-hour workdays of The Jetsons to fears of World War III and nuclear holocaust. Sometimes, we've made those dreams come true . . . or, at least tried. On this episode of BackStory, hosts Brian Balogh, Ed Ayers and Peter Onuf will ask what these past visions of the future have to tell us about the times that conjured them up." Guests Include: Matthew Beaumont, University College of London; Maria Lane, University of New Mexico; Matt Novak, author of the 'Paleofuture' blog at Gizmodo; Max Page, University of Massachusetts, Amherst.
Segment 2 | From the Archives: "Ray Bradbury's 1953 Classic, Fahrenheit 451 -- a reading selection)."
Here's a short selection (a reading) from Fahrenheit 451, Ray Bradbury's classic science fiction novel abour censorship published in 1953. In Bradbury's novel, Guy Montag -- a fireman whose job it was to burn books -- begins to question his job. In Bradbury's novel, reactions to controversial content in books had led to the decision to ban them altogether. While it was written during the Cold War era and was clearlyinfluenced by that era -- in light of current violence against, and controversy over, the French humor and cartoon magazine Charlie Hebdo, we thought it would be an appropriate segment to feature in conjunction with our main segment.
~ ~ ~ ~

January 6, 2015
Segment 1 | Lisa Tetrault on"The Making of a Myth: Seneca Falls Unraveled." (Recorded 11-21-2014).


Recorded at the 2014 Researching New York conference at the University at Albany -- SUNY, this talk by historian Lisa Tetrault from Carnegie Mellow University, focuses on a central women's rights origins myth and how it emerged: "The story of how women's rights began in 1848, at the women's rights meeting in Seneca Falls, New York, is a cherished American myth. But where did that story come from? Who invented it? And for what reasons? Unraveling that story by investigating its roots, which lay fifty years after the convention, Tetrault invites us to rethink the relationship of Seneca Falls to the evolution of modern women's rights activism. Carnegie Mellon University historian Lisa Tetrault is the author of The Myth of Seneca Falls: Memory and the Women's Suffrage Movement, 1848-1898. She specializes in U.S. women's history, memory, and social movements."
Segment 2 | From Archives: "Winifred Banks Singing 'Sister Suffragette' in Mary Poppins" (1964).
The treatment of suffragists in popular film before the 2nd wave feminist movement (and after!) has not always been flattering. Here's an example from the film Mary Poppins from 1964. For more on the topic -- focusing on the silent film era, see Kay Sloan, "Sexual Warfare in the Silent Cinema: Comedies and Melodramas of Woman Suffragism," American Quarterly , 33:4 (Autumn, 1981), 412-436.
Segment 3 | From Open Source: "13 Days in September" (2014).
The New Yorker magazine's Lawrence Wright is interviewed by Christopher Lydon of Open Source about "the only (and unviolated) peace treaty between Israelis and Arabs, the Camp David Summit in 1978." Wright is the author of Thirteen Days in September: Carter, Begin, and Sadat at Camp David (Alfred A. Knopf, 2014).
~ ~ ~ ~

December 30, 2014
Talking History is taking a break for the holidays. We'll be back next week to start the New Year with all new programming. Meanwhile, we invite you to browse the Talking History pages, with the links and search function on the left menu, to find shows you may have missed or favorites you would like to hear again.
~ ~ ~ ~

December 23, 2014
Segment 1 | Backstory: "What Gives: Generosity in America" (2014).
From Backstory and the American History Guys: "'Tis the season for giving. And on this episode, we're going to give you the history of that. The stories we're working on explore gifts in the American past and consider how ideas about charity, philanthropy and generosity have changed over the centuries. Sometimes, it paid to be poor — but not too poor. In earlier days, philanthropy had humble aims: to foster community and put the idea of charity out of business. Along the way, we'll also look the questionable notion of the "free gift," the idea of reciprocity in Native cultures, and the back story behind tax-deductible donations." Guests include: Cynthia Bell, of the Bell Sisters; Shelia Moeschen, author of Acts of Conspicuous Compassion: Performance Culture and American Charity Practices; Johann Neem, Western Washington University; Alice O'Connor, University of California, Santa Barbara; Kevin Rozario, Smith College; Isaiah Wilner, graduate student, Yale University. Segment also available on line at Backstory: http://backstoryradio.org/shows/what-gives-2/.
Segment 2 | From the Archives: "Literary Lessons in Generosity: "Shel Silverstein's The Giving Tree" (reading/sound track selection from 1973 film).

Here is a selection -- read by the author in a 1973 animated film -- from a controversial 20th century children's book classic about generosity. From Barnes and Noble: "Shel Silverstein takes a poignant and gentle look at theart of giving and the concept of unconditional love in his deeply profound children's book The Giving Tree. The story tells of the relationship between a young boy and a tree. Giving the boy what he wants is what makes the tree happy, a function it serves throughout the boy's life. First the tree is a place for the boy to play and munch on apples, later its branches serve as a source of lumber to build a house, and later still, its trunk provides the wood for a boat. By the time the boy has become an old man, he has used so much of what the tree has to give that all that remains is a stump. Yet all the old man needs at this point is a place to sit and rest, a function the stump nicely -- and happily -- serves." The book has been variously interpreted -- and those interpretations have been well summarized here: http://en.wikipedia.org/wiki/The_Giving_Tree#Interpretations. For the full film, from which this selection was taken, see: https://www.youtube.com/watch?v=1TZCP6OqRlE.
~ ~ ~ ~

December 16, 2014
Segment 1 | Open Source: "Capitalism and Slavery" (2014).
From Open Source: "We're continuing our series on capitalism by going back to its unspeakable origins. A new wave of historians say that the "peculiar institution" of slavery explains more about the present than we'd care to admit: not just how the West got wealthy, but the way that global capitalism evolved in the first place. . . . It was the global slave trade that helped make America rich, and yet no part of our history was more brutally unequal, more lucrative and less regulated than the slave-and-cotton empire." Guests include: Sven Beckert, Laird Bell professor of history at Harvard, chair of Harvard's Program on the Study of Capitalism, and author of the forthcoming book, Empire of Cotton; Craig Steven Wilder professor of American history at MIT, and author of Ebony and Ivy: Race, Slavery, and the Troubled History of America's Universities.
Segment 2 | From the Archives: "Karl Marx, Das Kapital, Vol. 1(selection from ch. 31)." (LibriVox reading of 1867 classic).


This is an edited selection (focusing on slavery and capitalism) from Karl Marx's first volume of his 3-volume classic, Capital, published in 1867. Here and elsewhere Marx offered an throrough analysis of the evolution, structure, and sources of instability of capitalism as it evolved from the late Middle Ages through the latter decades of the 19th centiry.) Volume 1 was the only one of his three volumes to actually be published during Marx's life. For the full text, see: http://www.marxists.org/archive/marx/works/1867-c1/. For the full LibRiVox reading, see https://librivox.org/capital-volume-1-by-karl-marx/.
~ ~ ~ ~

December 9, 2014
Segment 1 | Backstory: "Let's Make Up: Reconciliation and Its Limits " (2014)
From Backstory: "Twenty-five years ago this November, East and West Berliners began chipping away at the iconic wall that had kept them apart for three decades, and symbolized the deep divisions that the Cold War had inflicted on the world at large. As this piece of history crumbled, the Western press was almost euphoric: Freedom, we were told, had triumphed over political repression and cultural imprisonment. But the fall of the Berlin Wall also set in motion a long and difficult process of reconciliation among German citizens. And, indeed, of reconciling the First and Second Worlds -- a process still fraught with tension and uncertainty. On this episode, the Guys dig up buried hatchets to help us explore some of our own best and worst efforts at making amends. How have Americans tried to restore ties and move beyond strain and strife? When does it work? And what are the limits of reconciliation? Guests Include: Rebecca Brannon, James Madison University; Clifton Truman Daniel, grandson of President Harry S. Truman; Benjy Melendez, Founder of the Ghetto Brothers; Shigeko Sasamori, Hiroshima survivor; Orin Starn, Duke University; Karen Van Lengen, University of Virginia; Julian Voloj, author of Ghetto Brother: Warrior to Peacemaker.
Segment 2 | From the Archives: "Desmund Tutu on Truth and Reconciliation." (1998)


On November 5th and 6th, 1998,the University of Virginia and the Washington, D.C.-based Institute for Asian Democracy hosted the Nobel Peace Laureates Conference. Nine Laureates presented on a variety of topics related to their areas of recogniton. One of them was 1984 Nobl Peace Laureate Archbishop Desmond Tutu. Here we present an excerpt from his talk, "Reconciliation in Post-Apartheir South Africa: Experiences of the Truth Commission." You can read the full transcript of his presentation at this University of Virginia Web site: http://www.virginia.edu/nobel/transcript/tutu.html. The Web site also contains a short biography of Tutu, available here: http://www.virginia.edu/nobel/laureates/bios/tutu_bio.html.
~ ~ ~ ~

December 2, 2014
Segment 1 | Open Source: "WWI: The Shock of the New ~ James Joyce's Ulysses and Post-WWI Modernism" (2014)
From Open Source and Christoper Lydon: "Out of the mire and death of World War One, even before the shooting stops, comes the strangest thing: the novel of the century. It's James Joyce's Ulysses, transposing the wily warrior of Greek myth into the buried consciousness of a single day in Dublin in 1904. The global war was only part of the nightmare from which Joyce was trying to awake. From his teens, he'd set himself against every orthodoxy of provincial Ireland, against the pieties of family, church and Empire. Even before pre-publication, Ulysses became the fighting flag of Modernism: a sort of cracked 'true realism,' an anti-violent anarchism in prose, poetry and painting, too. Do you still hear the rebellious voice in the modernist masterpieces: Mrs. Dalloway, The Waste-Land? Have you made it through Ulysses? Is history a nightmare we're still sleeping through? Guests include Kevin Birmingham, author of The Most Dangerous Book: The Battle for James Joyce's Ulysses; Howard Eiland, Modernist scholar, editor of the modernist philosopher, Walter Benjamin, and author of the biography Walter Benjamin: A Critical Life; Eve Sorun, Professor of English at the University of Massachusetts, Boston, currently writing a book on empathy and elegy in British modernism.
Segment 2 | From the Archives: "T.S. Elliot's The Waste Land ("What the Thunder Said")." (1992)


Here is the last part of one of the best know 20th century modernist poems, by T. S. Elliot -- The Waste Land -- read by Elliot himself. For more readings by Elliot, go to: http://www.eliotsociety.org.uk/?page_id=95. For a short biography of Elliot, see: http://www.english.illinois.edu/maps/poets/a_f/eliot/life.htm.
~ ~ ~ ~
---
Copyright © 1997-2015 Talking History